Boy's Coaching Staff
Ryan Tucker, Midfielder - Chesapeake Bayhawks (MLL)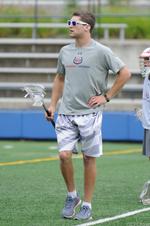 Major League Lacrosse
Ryan Tucker, in his fifth year in the MLL, was awarded the Corum Player's Choice Award at the 2019 MLL Honors banquet. The award is given to the player who is considered to be "the best teammate in Major League Lacrosse" and is voted on by the players themselves. Ryan currently plays for the Chesapeake Bayhawks and has enjoyed an outstanding MLL career. The 2019 Chesapeake Bayhawks won the MLL championship last year! Ryan was acquired by the Chesapeake Bayhawks from the Atlanta Blaze in 2017.
College
Ryan Tucker attended the University of Virginia from 2012-2015. In 2015, he received USILA third-team All-American and USILA Scholar All-American honors. He started all 15 games at midfield and finished his career No. 8 all-time among Cavalier midfielders with 77 career goals. He was one of UVa's five captains was recognized on ACC Academic Honor Roll, and received preseason third-team All-American by Face-Off Yearbook. In 2014, he received All-ACC Academic Team honors, while starting in all 15 games he appeared in and finishing No. 3 on the team with 24 goals. In 2013, he received All-ACC Academic Team honors, while appearing in all 15 of UVa's games with 12 starts and scoring 15 goals and dishing out five assists. In 2012, he appeared in all 16 games and scored 13 goals, which ties teammate Rob Emery (in 2011) for No. 2 amongst freshmen UVa midfielders under Dom Starsia all-time. Additionally, that year he was a member of the 2012 USA U-19 team that won a gold medal at the World Championships in Turku, Finland.
High School
Ryan Tucker attended The Gillman School. In his career there, he was listed as the No. 10 recruit in the country by Inside Lacrosse, rated the No. 2 incoming midfielder in the country by Inside Lacrosse, an Under Armour All-American, a four-time Under Armour All-Star, and ranked as the nation's No. 5 rising senior by Inside Lacrosse. He tallied 25 goals, nine assists, and 52 ground balls his senior season. He received Towson Times Player of the Year and was an All-MIAA choice. Additionally, he played soccer and helped lead Gilman to the 2010 MIAA A Conference Championship and was on the honor roll all four years at Gilman.
Personal
Ryan Tucker is the son of Janine and John Tucker. He has a younger brother Devin. Ryan is the Head Varsity Lacrosse Coach at the Norfolk Academy (VA) as well as the Head JV soccer coach. Ryan travels across the country holding camps and clinics to help grow the game through positive, constructive and high energy coaching and teaching.