Camp Sponsors/Resources
We are PROUD to be associated with the following sponsors:
---
INSTRUCTIONAL BOOKS

WOMEN'S LACROSSE: A GUIDE FOR ADVANCED PLAYERS & COACHES
Available at all major bookstores, Amazon.com or by contacting Hopkins Press directly.
Women's lacrosse is one of the fastest-growing sports in the United States. As stick technology advances, athleticism increases, and rules and regulations adapt, even the most experienced players and coaches need to keep current on all aspects of the game. Janine Tucker, head women's lacrosse coach at Johns Hopkins University, and Maryalice Yakutchik, a writer and former lacrosse player, here supply the ultimate guide to women's lacrosse.
Each chapter provides a detailed explanation of a specific skill or technique, illustrated with easy-to-read instructional diagrams and photographs. Coach Tucker begins with lacrosse survival skills?throwing, catching, cradling, and scooping ground balls?and then moves on to more advanced techniques, such as precise checking, fast footwork, correct stick and body position, deceptive shooting, and quick dodges. Chapters on cutting-edge offensive and defensive strategy and on specialized skills, such as goal-tending and the draw, will get any team ready to hit the field.
Fully updated, this edition includes* Detailed skill instruction* Drill suggestions throughout the book* New rules regarding the center draw and running through the crease For young women who want to play at the college level, the concluding chapter on recruiting offers a timeline; testimony from players, parents, and college coaches who have been through the process; and a sample résumé. Highlighting the most current strategies and tactics in the game today, Women's Lacrosse is a comprehensive instructional guide for coaches and players at all levels.
Updated Edition (January 27, 2014). Written By: Janine Tucker - Head Women's Lacrosse Coach Johns Hopkins Univerity & Maryalice Yakutchik - Freelance Journalist

BUILDING THE MODERN PLAYER

US Lacrosse has joined forces with two of the bestselling authors on the women's game of lacrosse, Scott Biron and Janine Tucker. Both Scott and Janine have produced major parts of the US Lacrosse Coaching Education Program, in addition to their bestselling drill book for women's lacrosse "Go to Drills", and now have created continuing education resources on development for midfielders, attackers, and defenders.
The "Modern Series" of continuing education resources are the most comprehensive resources on the market for women's lacrosse. Coach Tucker has been fine-tuning her players at Johns Hopkins University for years. She has utilized this experience, and the U19 knowledge of Coach Biron, to create resources that explain the process of coaching and developing players into game changers at every position.
Attacker Topics Include: • Stickwork • Shooting • Dodging • Faking • Feeding • Cutting • Picks • Picking • Two-player game • Running an offense • Player up/player down after a yellow card • Attackers role in the ride and clear
Midfielder Topics Include: • Stickwork • Shooting • Power of Drop Steps • Riding • The Intercept • Fitness • Picks • Turn Her • Crash • Double Teams • Game Sense
Defender Topics Include: • Developing Complete Defenders • Attitude Mindset and Work Ethic • Defensive Footwork • Survival Stickwork • Defending Cutters • Double Teams • Team Defense • Player-Down Defense • Breaking a Stall • Goalie Play

THE BAFFLED PARENTS GUIDE TO COACHING GIRL'S LACROSSE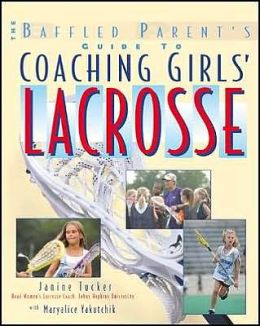 Lacrosse is one of the nation's fastest-growing youth sports, and the girls' game is overtaking the boys'. Played with different rules and tactics, girls' lacrosse requires its own specialized guidebook. Friendly and encouraging, Coaching Girls' Lacrosse is the first book to provide the fundamentals every unprepared parent needs to teach and motivate a team of 6- to 12-year-olds.

Produced in 2003. Written By: Janine Tucker - Head Women's Lacrosse Coach Johns Hopkins Univerity & Maryalice Yakutchik - Freelance Journalist