Camp Sponsors/Resources
We are PROUD to be associated with the following sponsors:
---

INSTRUCTIONAL BOOKS

*NEW!! WOMEN'S LACROSSE: A GUIDE FOR ADVANCED PLAYERS & COACHES instructional book in stores now!
Available at all major bookstores, Amazon.com or by contacting Hopkins Press directly.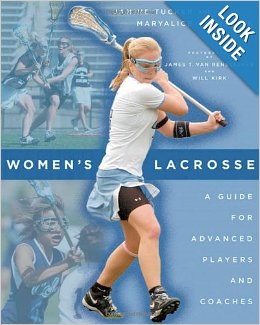 Women's lacrosse is one of the fastest-growing sports in the United States. As stick technology advances, athleticism increases, and rules and regulations adapt, even the most experienced players and coaches need to keep current on all aspects of the game. Janine Tucker, head women's lacrosse coach at the Johns Hopkins University, and Maryalice Yakutchik, a writer and former lacrosse player, here supply the ultimate guide to women's lacrosse. Each chapter provides a detailed explanation of a specific skill or technique, illustrated with easy-to-read instructional diagrams and photographs.
Coach Tucker begins with lacrosse survival skills—throwing, catching, cradling, and scooping ground balls—and then moves on to more advanced techniques, such as precise checking, fast footwork, correct stick and body position, deceptive shooting, and quick dodges. Chapters on cutting-edge offensive and defensive strategy, as well as specialized skills such as goal-tending and the draw, will get any team ready to hit the field. For young women who want to play at the college level, the concluding chapter on recruiting offers a timeline; testimony from players, parents, and college coaches who have been through the process; and a sample résumé.

*THE BAFFLED PARENTS GUIDE TO COACHING GIRL'S LACROSSE
From your first team meeting to equipment needs to dealing with officials, this book will get you started - and keep you going. Some of the topics this book includes: The basics for coaching girls' lacrosse for 6 to 12-year-olds, Fundamentals of safe play, Innovative passing and catching techniques, Progressive, relaxed cradling, Creative shooting, Practice and Game-Time planning, Lacrosse instruction for how the game is being played at all levels, Fun and educational drills.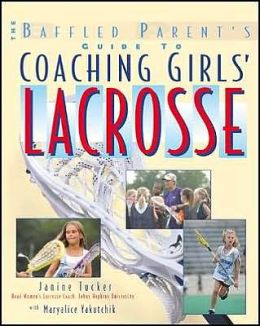 Produced in 2003. Written By Janine Tucker, Head Women's Lacrosse Coach Johns Hopkins Univerity & Maryalice Yakutchik, freelance journalist